Falling victim to any act of crime can leave you feeling vulnerable, no more so then when a stranger enters your property and takes something that doesn't belong to them.
This is how Andy Price, MD of IT recruitment company ITSS Recruitment felt after he became a victim to a burglary which resulted in expensive equipment being stolen from his office in Watford. However, instead of playing the victim, he became victorious after installing a HomeMonitor camera.
HomeMonitor: the remote crime-fighter
Andy said: "In the first incident, one of our computers was stolen and with a £1500 value plus the time and work lost, spending money on a security camera seemed like a no-brainer.
"The reason I bought the HomeMonitor camera was because of its free remote recording facility, which meant no one can get the footage, even if they damaged the camera."
While sitting at home one evening, Andy received an alert from his camera to notify him that there was motion in the office. When he logged onto the HomeMonitor app, he saw a burglary live in progress, with an unidentified person having broken in to his premises and in the process of stealing his valuable equipment.
"I couldn't believe what I was seeing! Here I was watching the crime being committed live as if I was in the same room. I knew I had to contact the police and tell them there was a crime taking place at that very moment. Actually seeing it happening in front of me was unnerving, but I felt more empowered knowing I could do something about it."
Andy immediately dialled 999 and informed the police of the situation; within 90 seconds, the police force and dog units were on site and closing in. Andy watched as officers entered his premises and apprehended the suspect red-handed, taking him into custody. Andy was able to log in to HomeMonitor and provide the police with full copies of the video showing the intruder in his offices, helping the police charge the burglar that day.
The police later found out that the suspect was also responsible for the previous break-in, as well as another burglary in the area and was subsequently sentenced in Crown Court to a two-year custodial sentence.
According to Andy, he is almost certain that the criminal would have made away with several expensive desktop computers which would have proved costly to replace, not to mention the loss of business time and valuable data and the hassle of claiming through insurance.
"Watching the action unfold through the camera was just incredible" Andy added. "I saw the crime taking place and within minutes the police were on site. Knowing that the person responsible is serving a prison sentence thanks to a simple, easy to use security system is proof of its value, and it has saved me thousands of pounds in losses. If it wasn't for the cameras, it is likely I wouldn't have known that I'd been totally cleared out until Monday morning; it has definitely saved me from a nightmare situation."
Andy's story was also featured on the BBC One programme "Caught Red Handed".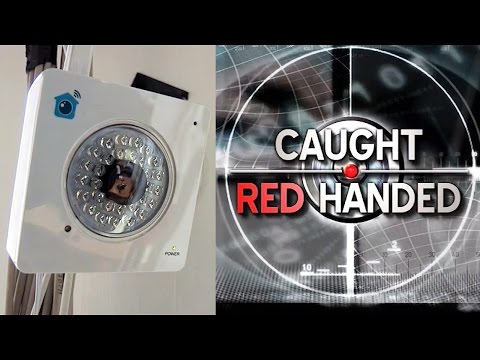 Has HomeMonitor changed your life? Let us know below!